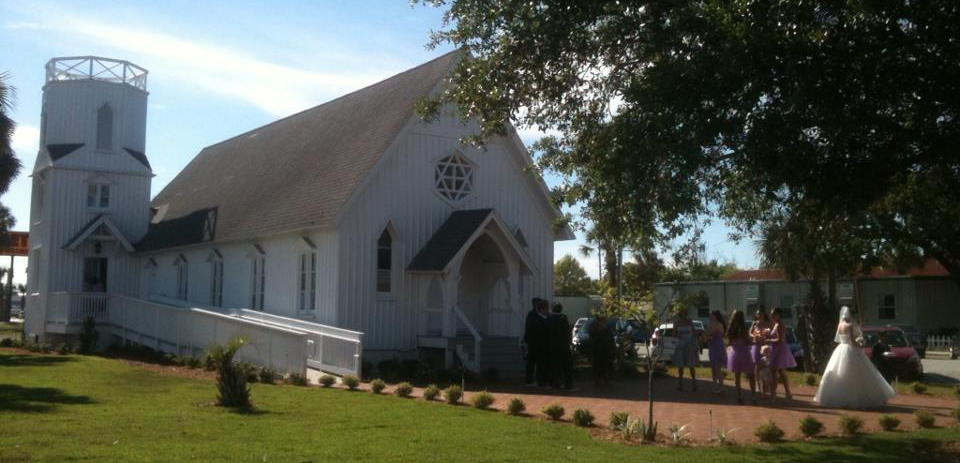 Beaches Museum Chapel Wedding
We have moved the St. Paul's By-the-Sea/Beaches Chapel, one of our Oldest Historical Structures on the Beaches, to the Beaches Museum. The chapel was moved on June 17, 2012.
The chapel is now available for events. We have had weddings and other meetings in the chapel. If you are interested in renting the chapel for a Jacksonville Beach Wedding, you may contact us for the full details.
The chapel has a rich story at the beaches. The location at the history park is its fourth location at the beaches, and its fourth "official" move. The chapel was moved twice while at its second home (once to turn it 90 degrees). The chapel started out at Second Avenue and Second Street South when it was built in 1887 in Pablo Beach (Jacksonville Beach now). In 1952, it was moved to 11th Avenue North and Fifth Street in Jacksonville Beach (previously Pablo Beach). In 1960, it was turned to face Patricia Lane. In 1970, the chapel was moved to 610 Florida Boulevard in Neptune Beach. Beaches Chapel built up around the small building, and finally the chapel was moved June 17, 2012 to the Beaches Museum.
Timeline Beaches Museum Chapel
St. Paul's By-the-Sea/Beaches Chapel
1886

No church at beaches
Episcopal services held at Murray Hall Hotel
Hotel guests & Pablo Beach residents raise $800
Architect Robert S. Schuyler contacts JJ Daniel, Pres of Atlantic RR to give land for building site
Additional $800 raised

1887

St. Paul's By-the-Sea dedicated So. Second St.
One of the oldest churches & one of the oldest buildings at the Beaches
A mission church (no regular priest of its own)
Vacant only two years: 1904, 1923 (excellent memories of 1923 period in Times Union article July 18, 1970)

1925

Church services are provided year round; previously only in summer months
Church probably acquires it first own bell after year round services are offered; previously, probably used a bell from the railroad.

1940

Church officially becomes a parish

1952

Church building moved from Pablo Beach/Jacksonville Beach to North 11th Ave at 5th Street (a few years later turned to face Patricia Lane and enlarged by splitting in half and adding a 24 foot section in between)

1967

New St. Paul's By-the-Sea dedicated replacing use of the small chapel

1952-1970

Somewhere between these times, the belltower was removed, believed to be damaged by fire.

1970

1887 Church moved for 3rd time after Vestry voted to give building to Central Christian Church at the Beaches for $1.00, and located it at Florida Boulevard at 5th Street, Neptune Beach

1974

Name changed to Beaches Chapel

2004

Letter including moving operations costs re BAHS

2007

June 24 – Original bell used on this Sunday service after installation in the Memorial Garden. The bell had been in storage since the 1970s when the chapel was moved. Inside the bell, a casting date of May 10, '01 is found.

2012

June 17th – Chapel moved to Pablo History Park
July – Belltower Reconstruction begins

2013

January – Belltower Reconstruction complete
Feb – Chapel repainted
April – Patio and Sod laid
October 20 – Official Inauguration Ceremony
Learn More