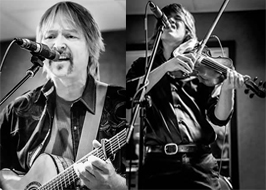 The Beaches Museum proudly brings back for a return performance the music act that started the sell-outs. Tim & Myles Thompson will perform live at the Beaches Museum Chapel on Thursday, March 19th, 2015
from 7:00 to 9:30 P.M.
Tim Thompson … 2008 INTERNATIONAL FREESTYLE GUITARIST OF THE YEAR … playing with his gifted son Myles on the violin. This duo sings and plays everything from swamp blues to jazz to rock to even classical. This group sold out their Chapel Concert in 2014 and began a series of unique and very successful Chapel Concerts.
With only 120 seats available, the Beaches Museum Chapel provides an intimate musical experience in a historic setting. In anticipation of good weather, a dinner and social hour will occur prior to the concert with food from MoJo's Southern Soul BBQ Kitchen in the park surrounding the Chapel.
A suggested donation of $10 for a MoJo's Kitchen BBQ Dinner. Dinner and Social at 6 P.M., concert starts at 7 P.M.
Tickets are $20 in advance and $25 day of show. This performance is part of the Beaches Museum & History Park's continuing effort to provide a wide variety of activities of interest to the residents of the beaches and greater Jacksonville.
Tickets for the event are available at www.BeachesMuseum.org/tickets.
For information about the event, please visit BeachesMuseum.org or call 904-241-5657.
# # #
About The Beaches Museum & History Park
Beaches Museum & History Park is operated by the Beaches Area Historical Society at Pablo Historical Park, Jacksonville Beach, Florida.
The mission of the Beaches Area Historical Society is to nurture civic pride for the distinct history of the Beaches, while providing education, information and entertainment for those who live, work and vacation in our communities.
The Beaches Museum & History Park is located at 381 Beach Boulevard in Jacksonville Beach. To Learn more about the Beaches Museum & History Park, please visit our website at www.BeachesMuseum.org
Contact:
Beaches Museum & History Park
381 Beach Blvd.
Jacksonville Beach, FL. 32250
904.241.5657 BeachesMuseum@gmail.com

This mailing is partially funded by the Cultural Council of Greater Jacksonville.
Beaches Museum & History Park is operated by the Beaches Area Historical Society, Inc., a 501(c)(3) Corporation Registration # CH1597. Your donation is tax deductible to the full extent allowed by law. A copy of the official registration and financial information may be obtained from the Division of Consumer Services by calling toll-free (800-435-7352) within the State of Florida. Registration does not imply endorsement, approval, or recommendation by the State.
The Beaches Museum & History Park
|
381 Beach Boulevard
|
Jacksonville Beach
|
FL
|
32250