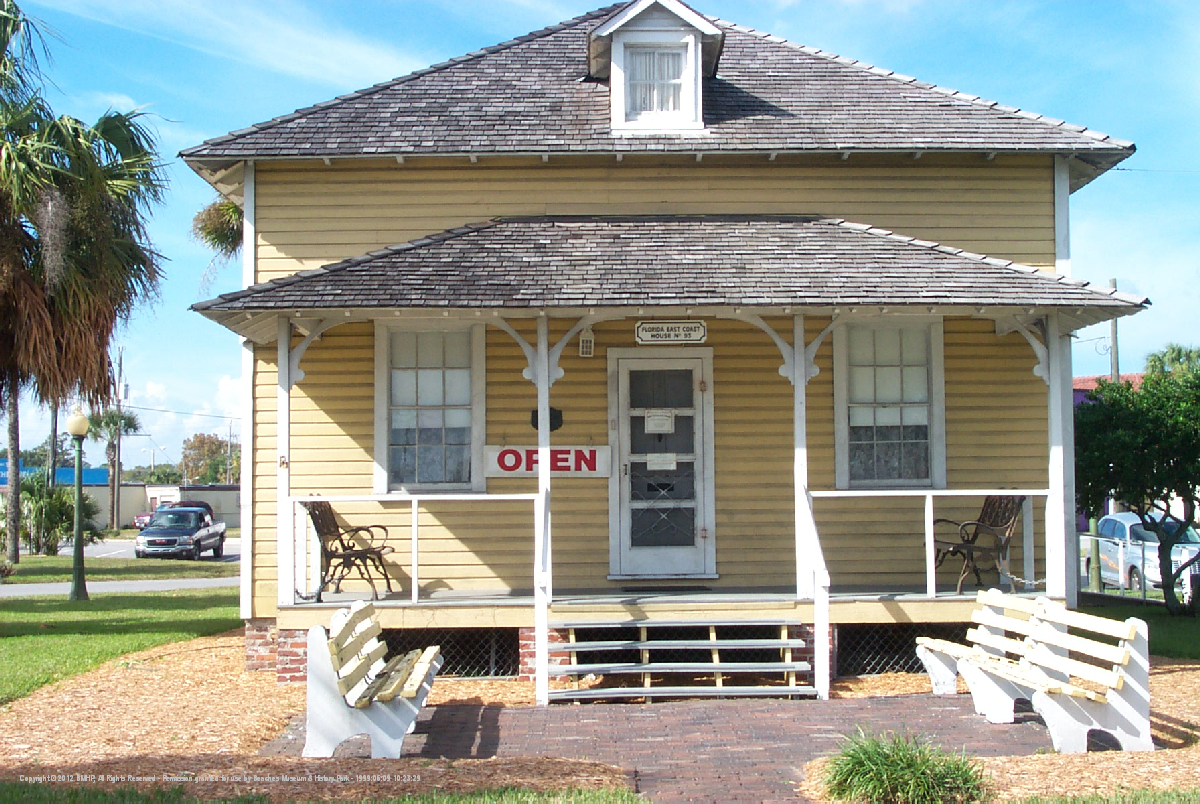 East Coast Railway Foreman's House #93
1900 Pablo Beach Florida
The Florida East Coast Railway (FEC) constructed this 1 ½ story, wood frame structure in 1900 at Jacksonville Beach (then known as Pablo Beach) as a residence for their section foreman. The house was originally located on the northwest corner of Railroad Avenue (now Beach Boulevard) and 6th Street North (one-block west of its present location).
From 1915-1922, Hershel Smith, the Section Foreman whose history is best known, lived in the house with his wife Ethel and their two daughters, Lynn and Jane.
The two bedroom, living room, dining room, kitchen and attic floor plan was used by the Florida East Coast Railway Co. from Northeast Florida to Key West. All their structures were painted colonial yellow, including #93. This house had no indoor plumbing or electricity while used by the FEC. Water was drawn from a pitcher pump in the back yard (see sample pump in the back hall). A stove in the front room and probably one in the dining room heated the house. Cooking was done on a wood stove in the kitchen.
In 1933, after the railroad was no longer in service to the beach, William T. Brown purchased the house at auction for $60. Mr. Brown moved the structure to First Street South in Jacksonville Beach. Plumbing and electricity were installed after 1933 (when the house was no longer used by the Florida East Coast Railway). In December 1978, Mr. Brown offered the house to the Beaches Area Historical Society. He documented that the house was Florida East Coast Foreman House #93 and that it was constructed ca. 1900. It was moved to Pablo History Park in 1979.
An engineering report of 1916 shows the value of the house as $997. In 1913, $590 of remodeling was done, and in 1923 a porch was added at a cost of $115, resulting in a total estimated value of $1,702 for the house.
None of the furnishings are original to the house or the families that lived there.