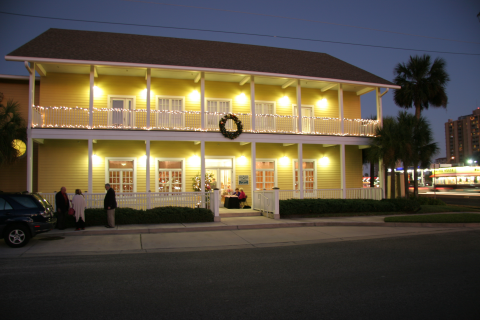 December 9, 2016 - 5:00 pm
Beaches Museum & History Park
The Beaches Museum & History Park will host the annual Holiday Open House on Friday, December 9 from 5-8 p.m.
Entertainment will abound during this festive event.  Musical and dance performances will be scheduled every half hour in the Beaches Museum Chapel from performers such as Gene Nordan, Gabe Goodman, the Polly B Dancers, and more!
Throughout the History Park guests will have an opportunity to meet Santa, enjoy cookies and cocoa, visit all of the Park buildings and witness the official lighting of the Christmas Tree. Inside the Museum enjoy music, light refreshments and our newest art exhibit.
Please mark your calendar for this free event and join us to celebrate the season.  For further information, please contact the Beaches Museum at 904-241-5657.
If you are interested in sponsoring this event please contact Chris Hoffman or Alexandra Klein at 904-241-5657.
Happy Holidays from the Beaches Museum & History Park!!