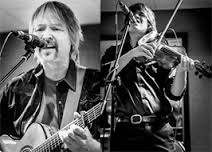 February 20, 2017 - 7:00 pm
The Beaches Museum and Lazzara Family Foundation proudly present Tim and Myles Thompson at the historic Beaches Museum Chapel.
Tim and Myles Thompson have been inspiring audiences throughout the country. With recent performances that include the Montreal Jazz Festival, Walnut Valley Festival, Sisters Folk Festival, Pagosa Folk 'N Bluegrass Festival, and the Chet Atkins Festival, they have polished their craft to a fine luster.
Tim is a Nashville based session player, singer/songwriter and the 2008 International Fingerstyle Champion. Music has always filled the Thompson home; unknowingly it inspired Myles to pick up the violin at the tender age of five! By the age of twelve he was studying music theory and improvising with skill beyond his years – it was clear that music would be his life. Today at the ripe old age of twenty-one Myles is also a prolific singer/songwriter and mandolin player.
Join us for a night of wonderful and unique music in the most inviting and intimate atmosphere in Jacksonville.
Tickets are $20 for the show in advance, $25 day of show.  Visit the ticket link on this web page or call 904-241-5657 to purchase tickets.