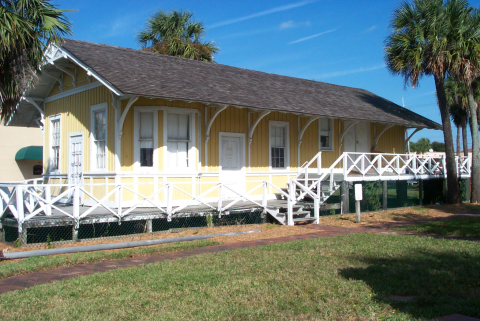 1900 Mayport Florida East Coast Railway Depot
This c1900 building stood in Mayport as the terminus point for the Florida East Coast Railway spur line to Mayport. Mr. Henry Flagler bought the Jacksonville and Atlantic Railway, expanded it to standard gauge and extended it to Mayport.
The spur line was in operation from 1900 to 1932. The upper portion of the building is the freight room. The double door on the front allowed for freight to be off-loaded directly into the room with double doors on the back for pick-up. The lower portion of the depot housed the stationmaster's office and waiting room.
After the rail line ceased operation to Mayport this building was used as part of a home and a bar and restaurant. It was moved from the port area in Mayport to the end of Pearl Street, and then to the Beaches Museum in 1981.