The Oesterreicher-McCormick Cabin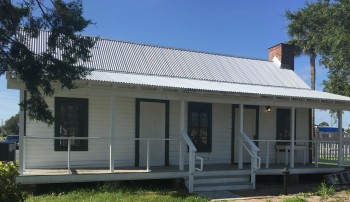 Built in 1873 on Twenty Mile in Palm Valley, the Oesterreicher-McCormick Cabin is one of the area's oldest examples of Florida Cracker architecture.  Under threat of destruction to make way for a development, the Cabin was identified by the Beaches Museum not only for its historic significance, but for its potential as a support building within the History Park.
The cabin was donated to the Museum and a very successful capital campaign to provide for restoration ensued.  Great care was taken to preserve as much of the craftsmanship and original features of the Cabin as possible while bring it up to modern-day building codes and requirements.
Opened to visitors in November, 2016, the Cabin has proved to be not only an ADA compliant bathroom and gathering area, but also a fascinating glimpse in to pioneer life in Florida for visitors, school groups and the community.